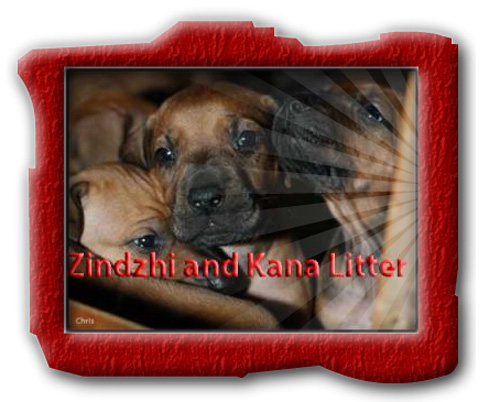 Zindzhi Ayaba

Musanga Sanga Mukana
On July 27, 2009 Zindzhi gave birth to 10 puppies (4 dogs, 6 bitches). All have correct ridges. Mummy and the puppies are doing wel – eating and sleeping.
Love towards Kana was love at first sight. Like his owner says: "Kana is a dog with a lot of personality and he loves life. He's very affectionate, he will not give you one paw but two."

Sue Campbell of Nyassa Kennel,who had Kana for some time, has the same opinion about Kana: "An extremely intelligent boy. A pleasure to take to shows his temperament is second to none, having a huge heart and full of love for everyone."

With exceptionally well body proportions and temperament, what we admire about him is his background.His father, widely known Chipangali´s Kadani, produced impressive number of extraordinary dogs just as his mother Musanga. Kana's grandmother – Agnes Visconte des Simon of Chipangali is the dam that we have admired and loved from when she was a puppy.

Grandfather Tandiwe Merigal's Mad Gamble is also an ancestor of one or our males, Pingu who at his best was unbeatable while performing on dog shows. One of his trumps was the way he proudly stood and extraordinary movement which were characteristics he inherited from Tandiwe, like Kana also. His other grandfather Kianga Dagmar has won our love on dog shows in Europe

Zi is a queen of our heart. She is a true pearl of our kennel, a small bitch with beautiful head and gorgeous eye expression.

Everything on her body is harmoniously flawless. But, why we really love her is her temperament.She knows exactly what she wants and what is asked of her to be done. When she obeys, she does it only to please us. Zindzhi is highly sensible and confident, and sometimes even mind reader.

What makes us proud of her the most is the fact that both her mother and father are of our line.Both of her parents are Ayaba Ridgebacks, and by breeding them we wanted to infix positive characteristics.

Luckily, she inherited all that we hoped for.Besides of the dogs that represent foundations of our kennel, Zindzhi origin is mostly based on old African bloodlines, such as Msasani, Cartouche and Khwezi dogs.

Mating of Zindzhi and Kana will help us to keep the genes of European's most beautiful show dogs, but it also bring out great expectations of every puppy that will come out of this litter.
Pedigree:
MUSANGA SANGA MUKANA

NHSB

CHIPANGALI'S KADANI

OHZB/RHR

TANDIWE MERIGAL'S MAD GAMBLE

AKC

TUROKA GLOBE'S CASINO RENOSE

AKC

CALICO RIDGE VALKYRIE MAIDEN

AKC

AGNES VISCONTE DE SIMON

OHZB/RHR

BASKO v. FÜRSTENBACH

OHZB/RHR

EDDA V. WAGNERHOF

OHZB/RHR

MUSANGA SANGA

NHSB

KIANGA DAGMAR

NHSB

SIMBA v. MASJONALAND

NHSB

JOCKULAR AUTUMN

NHSB

AFRICAN REDS AKOSHUA

NHSB

ARON OGNI

VDH

JOCKULAR RABANNE

NHSB

ZINDZHI AYABA

HR

MARAN AYABA

HR

BONGO ROPOTAMO

CSHPK, OHZB/RHR

CASTOR v. WAGNERHOF

OHZB/RHR

MERIGAL'S ELANDA

SHSB/LOS, CSHPK

SHILAA DAWN OF AYABA

JR

ASALI of MSASANI

JR (KUSA)

THIKA

JR

TWINY AYABA

HR

JOCKULAR JAMAL AQUAMARIN

NHSB

KHWEZI ACHERNAR

KUSA

JOCKULAR KUNDALINA

NHSB

NANDI AYABA

HR

CARTOUCHE TENZI

KUSA

KWENA AYABA

HR