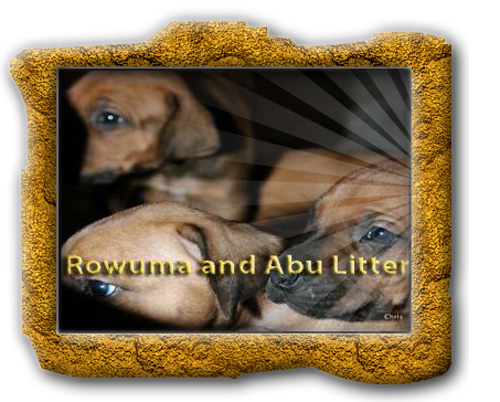 Rowuma Ayaba

Abu Ayaba
On July 24, 2009 Rowuma gave birth female puppy by Caesarian section. Little lady have offset and one white paw. Mummy and the puppy are doing wel.
Shime is a dog whose life is one big joyful play. He strolls around with the body of an athlete and a heart of a Labrador.As soon as the sun arises, he walks around the house to kiss everyone in the house. Sometimes, it is on all four legs, but on other occasions, two are just enough for him to get where he wants.

He says hello to the sun, rain, neighbors, cats, and even mailman.He bathes like retriever, even though RR's should hate the water. He will fetch the ball, bring the stick back, and share his food with other dogs.

As soon as he catches a glimpse of an open car door, he'll jump into a vehicle just to make sure that we do not leave him behind.His body is shaped a lot like Renga's, just a little bit taller, with darker eyes and stronger head.

He is an offspring of dam Titlayo, who is Nandi's daughter, and sire Sjaak van het Maasjesfles who is an offspring of old African dogs Chibuluma, Cartouche and Dutch kennel Maasjesfles.

Mating of Rowuma and Abu is a line breeding. We are repeating Nandi and Cartouche Tenzi, Sarula Gwiza and Rekaylahn Jabulisa. In 4th and 5th generation we are going back to old Mushana dogs.

Rowuma is Nandi's daughter from her first litter when she was mated with Pronkberg Renga of Clachan. Rovuma grew up and lives in Montenegro, Podgorica. She was showed only twice on dog shows and both of the times she won BOB.After first few years of her life, we lost a track of her and now we have finally found her.

We would like to take the opportunity to say thanks to her owner who gave us the opportunity to involve her in our breeding program. In this way, she will make a valuable contribution while we're striving to get back to our genuine breeding line.

Her mother had three litters and in each of them she gave birth to 10 – 12 completely correct puppies out of which all of them grew into extraordinary examples of this breed.Her father is Pronkberg Renga of Clachan and we are very grateful to Scotty Stewart and Nina Roth-Callies who enabled us to mate with this legendary hunter and protector of Kruger Park. We shall never forget the first time we laid our eyes on him and his soundless walk while coming towards us. Rowuma inherited from him firm body structure and self confidence.



Pedigree:

Abu Ayaba

HR

Sjaak V. H. Maasjesfles

NHSB

Chibuluma Imbazo Axe

KUSA

Zima


KUSA

Cartouche Ratisa of Chimbuluma




KUSA

Dingo V. H. Maasjesfles

NHSB

Mswati's Goliat Bogolo

NHSB

Kiboko Kikoto v.h. Maasjesfles

NHSB

Titilayo Ayaba

HR

Jockular Jamal Aquamarin

NHSB

Khwezi Achernar

KUSA

Jockular Kundalina

NHSB

Nandi Ayaba

HR

Cartouche Tenzi

KUSA

Kwena Ayaba

HR

Rowuma Ayaba

HR/MNE

Pronkberg Renga of Clachan

KUSA

Rekaylahn Jabulisa of

Clachan

KUSA

Umvutcha Lhazula

KUSA

Rekaylahn Titian Mischief

KUSA

Sarula Gwiza of

Pronkberg

KUSA

Rustig Mooketsi of Sarula

ZKC

Mushana Ranzi of Sarula

ZKC

Nandi Ayaba

HR

Cartouche Tenzi

KUSA

Mushana Benji of Cartouche

KUSA

Cartouche Thukusa

KUSA

Kwena Ayaba

HR

Bongo Ropotamo

CSHPK OHZB/RHR

Shilaa Dawn of Ayaba

JR